DEGREES
B.S. Psychology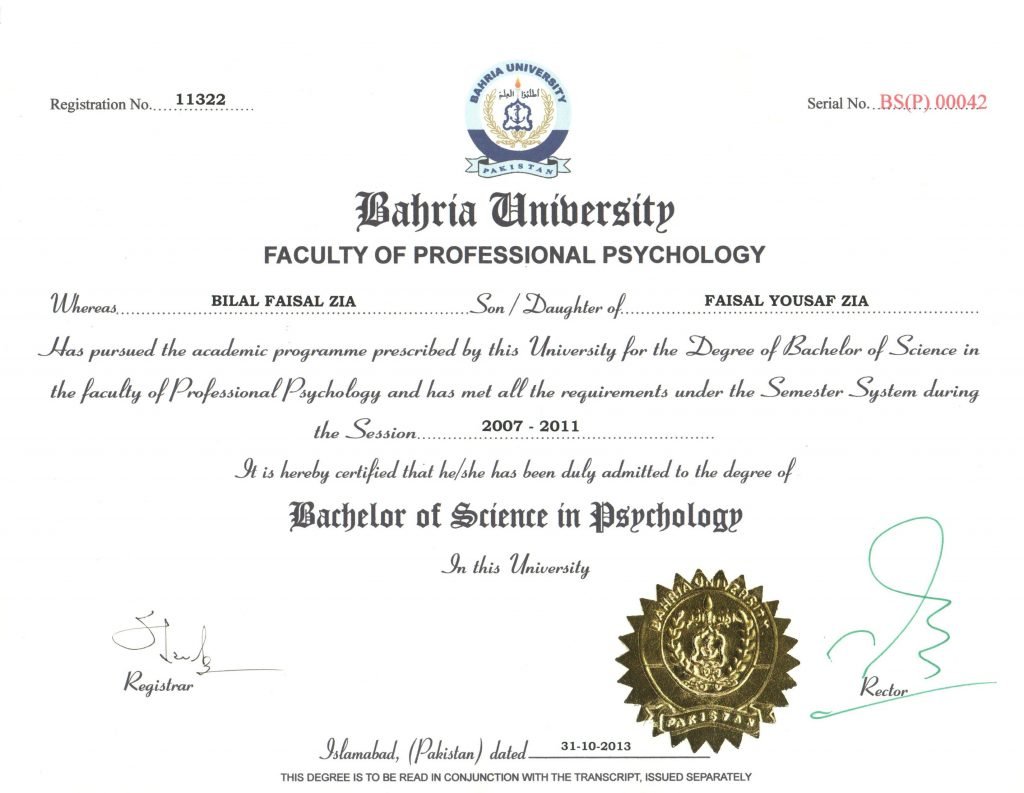 Innately interested in the human mind it was a no brainer (pun intended) for me to study psychology. I worked tirelessly for years and in the end The Institute of Professional Psychology at Bahria University gave me this piece of paper:
Although I do wish the rector and registrar could have been bothered to be color co-ordinated. Nice job, with the green ink Rector.
A.A.S. Digital Media
My interests in psychology were geared towards consumer behavior and eventually consumerism to me became more about human computer interaction, instead of pursuing a masters degree and ending up with piles of debt. I decided to get an applied science degree from Northwest Vista instead.
This time all the signatures on the degree were color co-ordinated. Though I licked my degree and the ink didn't come out. I spend two years of my life pursuing a degree and the institute can not be bothered to take two seconds to sign it. Brilliant.
ADOBE CERTIFICATES
I have been using Adobe products for years. The first version of Photoshop I had used was 6. Not CS6. Just 6. I discovered Adobe all the way back in 2001, however I did not get serious about them until I enrolled for the Digital Media degree program at NVC in Fall 2014. I subscribed to Creative Cloud in 2016 and earned my certifications in 2017.
I have secured certifications in Illustrator, Photoshop, InDesign and Premiere. I am currently in the process of preparing for DreamWeaver and Animate.
Click on the thumbnails to view the certificates or head on over to my profile on Acclaim. I did get physical certificates in the mail but Adobe CEO Shantanu Narayan couldn't be bothered to sign them and I couldn't be bothered to scan them.
GOOGLE CERTIFICATES
My skills and interests extend beyond the creative arts. I am Google Analytics IQ Certified. Crunching numbers and quantifying user behavior.
MISCELLANEOUS CERTIFICATES
The field that I have chosen necessitates keeping up with the latest trends in technology. Here are some more certificates: